Registration form/Contact us
BLACK FRIDAY SALE!!
OUR ANNUAL BLACK FRIDAY SALE BEGINS MIDNIGHT THANKSGIVING NIGHT AND IS VALID UNTIL 6 AM ON NOVEMBER 25TH (6 hours only) To take advantage of our 20% off Black Friday sale simply click on the Venmo link
https://venmo.com/u/April-Jantz
and pay $380 or click on the PayPal link
www.paypal.com
and pay $390 to april@scotchpinesdogtraining.com This is valid for any group class in 2023!
Now for the boring "fine print" - This sale is for 6 hours only and any discounted payments received before or after the time period will be refunded. We do know that things happen: you missed the deadline because you were in the emergency room and almost died, your phone died, my Venmo/PayPal didn't work, my website is broken (we've heard a few of these over the years) and due to that you missed the sale and need an exception to the 6 hour window.... we understand and that is why we will be offering this sale next year as well! We do not honor the discounted sale price outside of the 6 hours for ANY reason. _________________________________________________________ We are taking registrations now for our Spring 2023 classes. Our January classes have been filled. These classes will begin January
16th
,
17th
and
18th
(your choice of a
Monday
Tuesday
or
Wednesday
evening class) If the class is
crossed
out, it has been filled. You can request to be added to a waiting list in case of someone rescheduling.
January classes are indoors and are offered in Nampa only. All other classes are outdoors offered in Nampa and Meridian beginning in the Spring If you register for a spring class, there may be a chance of rain, if you register for a summer class, it will be hot, if you register for a fall class, it may get chilly! To contact Stephanie at the Twin Falls area Scotch Pines please click
here
To contact Sarah at the Idaho Falls area Scotch Pines please click
here
My submission of this form constitutes a non-compete agreement. I will not use any information for monetary gain or share it with others as I recognize it is proprietary information.
My dog will be at least 6 months by the starting date of class and at least 12 lbs!
Refunds are only given up until 7 full days before the starting date of your chosen class. Refunds and/or tuition transfer (transferring to another class) are not given for ANY reason past that point, please do not ask. I do understand life becomes busy with sports, vacations, work, unexpected illness, medical quarantine, etc. However, that conflict is something that can be avoided by proper planning as well as having a friend or family member who can substitute if necessary.
Confirmation emails with all pertinent information on your registered class (location, times, etc.) will be sent two weeks prior to class.
Scotch Pines Dog Training is secure and will not, under any circumstance share my information with other parties.
Payment must be made at time of registration if paying by Paypal or Venmo
If paying by check, check must be received within 3 business days of submitting registration to secure spot in class.
PayPal
in the amount of $485 to april@scotchpinesdogtraining.com
Venmo
in the amount of $475 to @April-Jantz (last 4 of phone number 7487) or good old fashioned check in the amount of $475 to April Jantz If paying by check, check must be mailed within 2 days of registering- mail to address at bottom of page.
Mailing address ONLY 8288 Ustick Rd Nampa Idaho 83687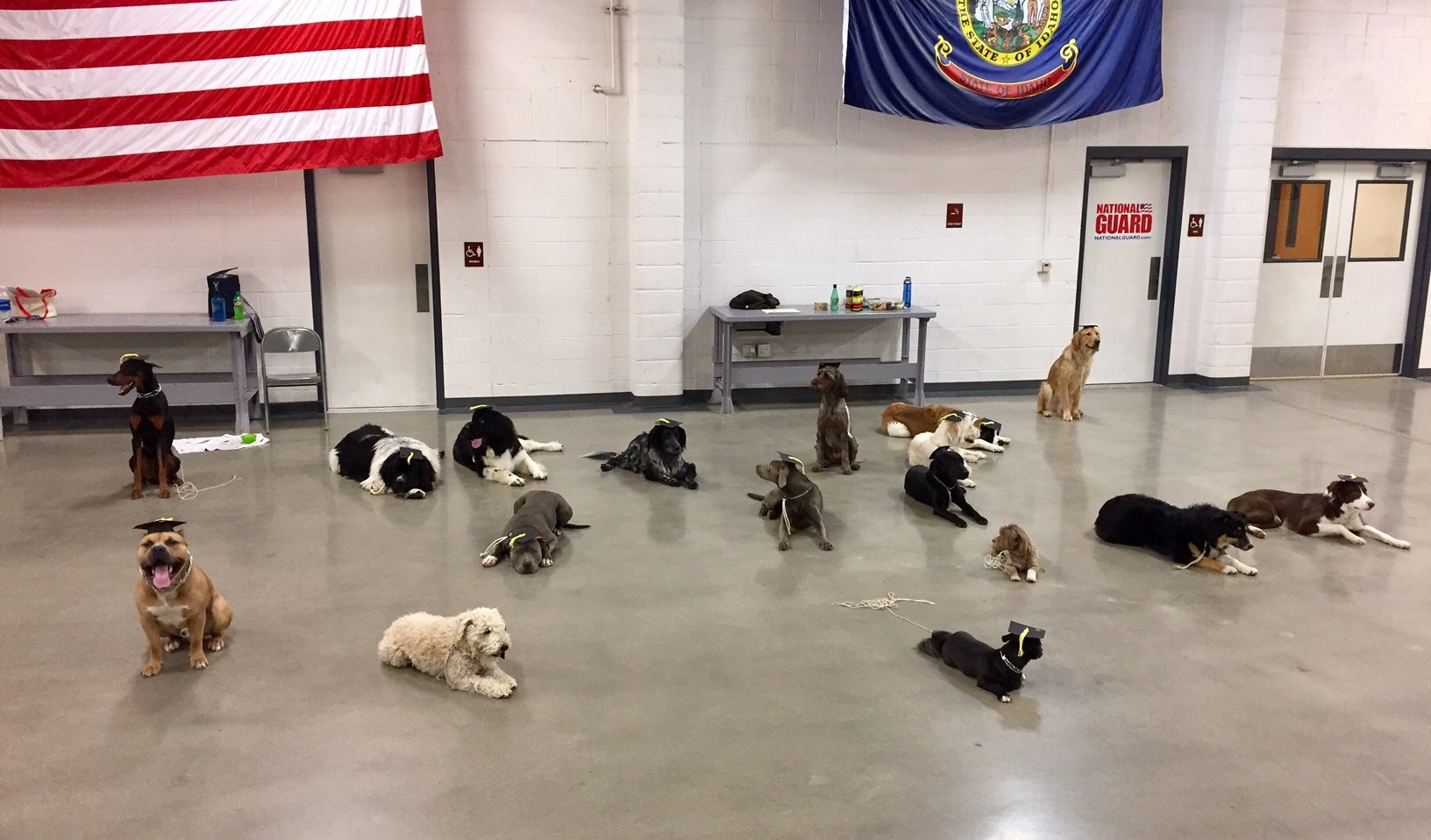 A personal message from April- owner of Scotch Pines: Thank you for your interest in Scotch Pines. We routinely update our website, keeping all information up to date. Scotch Pines has grown over the years to the point that we no longer have the luxury of answering every question via personal phone calls. Our website has been set up to answer every question we can think of! If there is a question you have that is not covered on our website, please email us and let us know and we will add it to our website!
Thank you so much for your understanding!
Classes meet one evening per week for 9 weeks, each class is 2 hours long.
The starting day of class (Monday, Tuesday, Wednesday or Thursday) is the day of class you will attend each week.
Homework is sent home after each class for training through the week.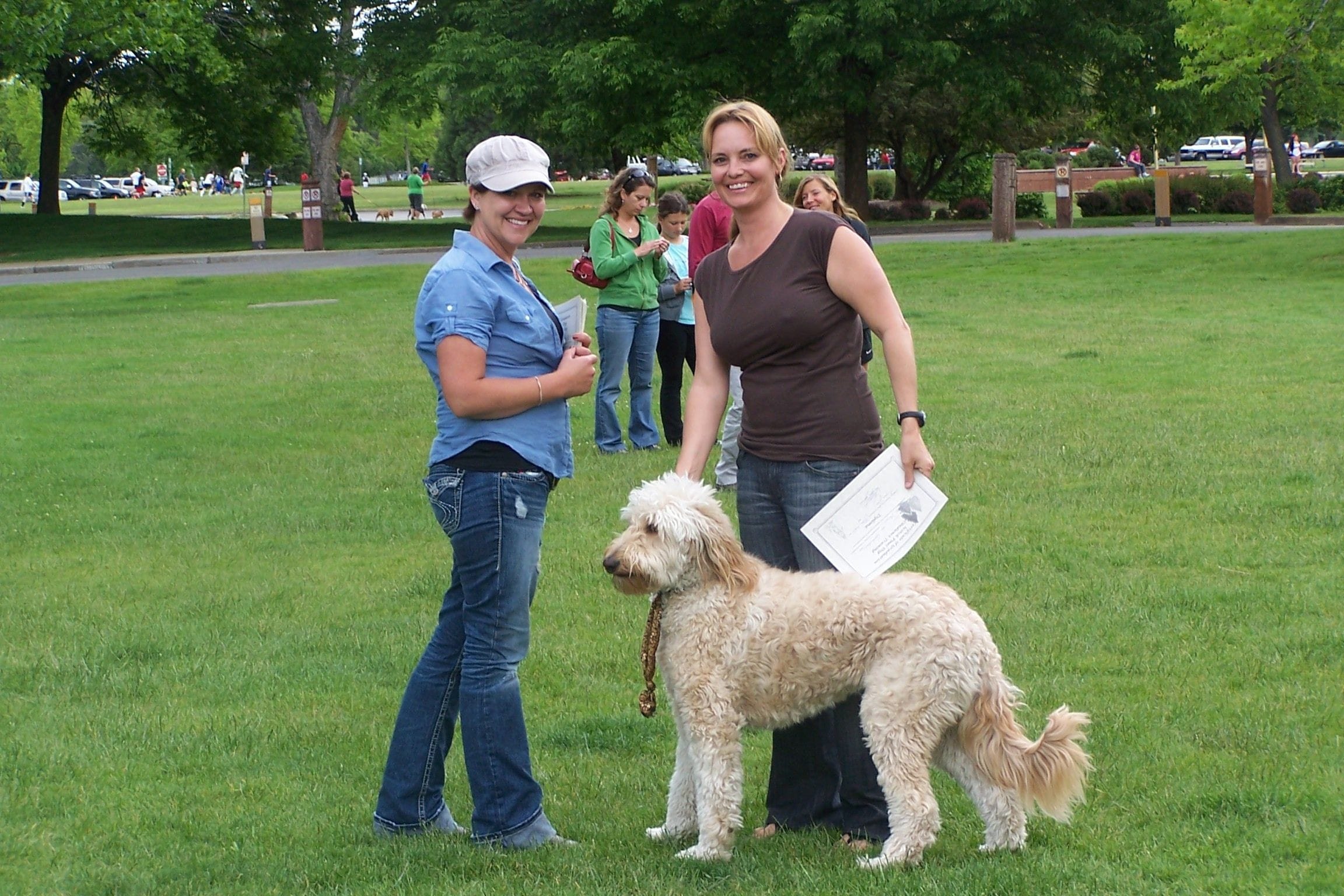 For our customers:
As with any business I have guidelines which enables me to offer you as the customer the best experience possible, please bear with me as I list these policies:
1. Each class is very important and MUST not be missed! If you know in advance that you are going to miss a class please let me know so we can make arrangements for making up that lesson.
2. If you do miss a class please contact me as soon as possible. You cannot simply show up at class the following week as your dog will now be behind the class and it is unfair to everyone else for us to stop class to try and catch you and your pup up to the class.
3. If your dog gets sick during the course of the class, leave it at home and come without them! You will learn just as much (and sometimes more) by just observing the class!
4. If you get sick please let me know as soon as possible OR send a family member/friend who has been watching you work with your dog and is familiar to the dog in your place.
5. Class is held in all weather! Please do not call/text/email to inquire if class will be held. If you register for a class in the spring, there may be rain- if you register for a June class, it will be hot!
6. I teach 4-5 classes per week and my time for lengthy phone/email/text consults are limited. If you have a question please text it to the # provided (during normal business hours/days). If you have a complicated issue that requires more please text me to schedule a one on one appointment ($75 per hour).
7. Please never forget that you hired me to help you train your dog. I am here to help and offer my 25+ years of dog training experience. If you decide not to follow the training standards set by Scotch Pines I do ask that you stop attending class so as not to confuse your dog further.